Presenting the key features that can meet the needs of the entire laundry industry, ranging from local entrepreneurs with a requirement for a simple software for a laundry shop, going all the way up to fitting the advanced requirements of a commercial laundry management Software.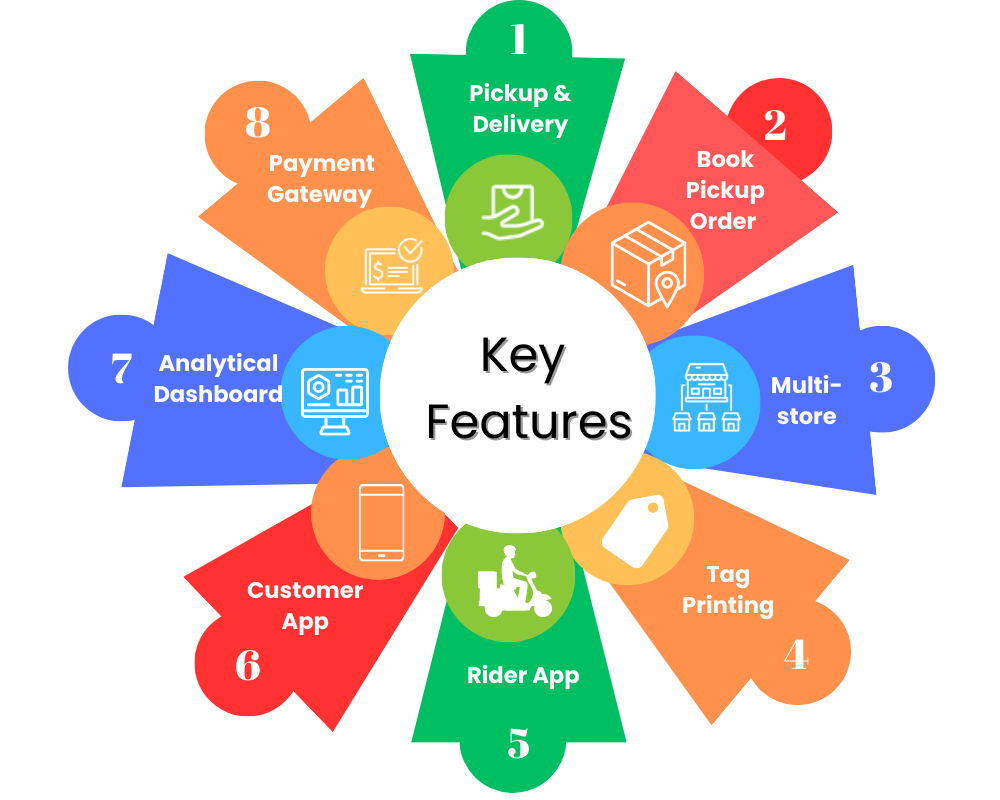 Pickup and Delivery Management
Customers can request pickup from their home
Managers/owners can allot or assign pickup orders to riders.
Riders or driver receives pickup order on the rider app.  
Riders visit customer home, collects order and clears payment.

Customer Management
Create a list of existing and old customers. Keep updating this list by adding new customers to this list. Directly select customers from the customer list while creating orders.

Book Pickup Order
Take and accept orders directly from walk-in customers.

Send real-time order status – order accepted & order delivered – directly on customer's WhatsApp number

Print Invoice and Bills
Create/print proforma or estimate and final invoice.
Put your laundry logo on invoice for branding

Tag Printing
Assign unique tag prints to all cloths and garments so that they don't get misplaced or lost.
Rider Management
Efficiently manage your riders/drivers through a dedicated rider app. Assign orders to riders directly from the admin web panel

Price List
Create different price lists on basis of locations/regions, customers and businesses (B2B and B2C).
Analytical Dashboard
Get a real-time update about current as well as previous months monthly expenses, sales and total collections on a dashboard. Likewise, you can also get access to data about yearly sales, income and expenses of all the previous years.

Payment Gateway Integration
SLS's internal team helps in payment gateway integration to help the customer to accept and receive payment in the most secured way.

Branding With Customer App
Give your laundry store the benefit of branding with our android & IOS based customer app. The app will be available in laundry store's official name (e.g. InstaBright Laundry App) and carry the official logo of the laundry store.

Expense Management
keep a tab on all the expenses. You can create and add new expense items in the existing list. You can add daily expenses, shop rent, electricity bill, employee salary, fuel and other expenses in the expense list.

Add Multiple Services
Create and add multiple services as per your business needs, services like dry cleaning, wash & iron, wash & fold etc.