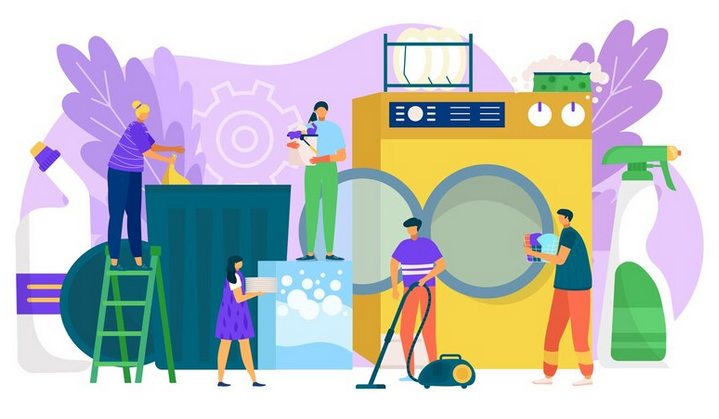 Today literally ever business, irrespective of whether it belongs to B2B or B2C, has to embrace digitization and automation. Doing so not only helps in simplifying several complex activities but also in keeping business ahead of the competition. This ultimately leads to greater efficiency, attract more customers and eventually helps in increasing the profit of the business. Today laundry businesses spread across the length and breadth of India as well as across the world also want to enjoy these great benefits.
The growing challenges in laundry business and the increasing expectation of customers has meant that today laundry industry can no longer afford to ignore automating their business. For most laundry business owners, the simplest way to adapt automation is to obviously opt for laundry management software. Over the years, the demand for laundry management software has picked up massively. Today owners of laundry shops and commercial laundry business are more than willing to pay extra money for buying laundry software. But what really is laundry management software.
laundry management software is a specialized software solely designed to automate and streamline the operations of a laundry business. Apart from web­-based software, a laundry software is also available as a mobile application on Android as well as IOS.
Benefits of Laundry Management Software:
Mentioned below are some of the top benefits that this specialized software offers and how it helps in taking the laundry business to the next level.
Increased efficiency:
It simplifies and streamlines several key operations and eventually helps in increasing the efficiency of the business. For instance, the software can help owners in tracking the important expenses and likewise provide them graphical reports in the form of rich charts and diagrams. The latter feature particularly helps in analyzing, making informed decisions and predicting the future growth of the business. These and many other features ultimately paves for greater and increased efficiency in the business and this certainly aids the long-term growth.
Better inventory management:
A specialized software gives you a better control over inventory. You can easily track the inward and outward flow of cloths in real-time, ensuring that your customer cloths are never misplaced. As a result, losses incurred due to misplaced cloths also stay in control.
Enhanced customer experience:
Customers can easily schedule pickups and deliveries, track their orders and receive notifications when the laundry is ready. Customers can receive notifications either on WhatsApp or SMS. This can improve customer satisfaction and loyalty, eventually ensuring customer retention and more profit for the business.
Improved communication:
A good laundry management software makes sure that there is no communication gap. It facilities proper communication between employees, customers and suppliers, which ultimately ensures that everyone is on the same page and thereby reduces misunderstanding.
Better management of multi-store franchise:
A laundry software is a perfect solution for anyone who is already running or planning to start laundry franchise business. From a single location and single dashboard, you get a complete control of all your stores located at different locations. Besides, you get accurate and real-time information about all the stores with just few clicks.
Overall, a laundry management software can have an all-round positive impact on your business. From reducing cost, improving operational efficiency to providing a better customer experience, the software's several great features make it a perfect growth partner for any laundry business that aims to grow rapidly.
Disclaimer : The above content has been generated by an AI tool. However, the content has been moderated by our internal staff to ensure that information provided is 100% accurate and reliable.